Configuration
Automatic insertion into WooCommerce & WordPress Search when Searched Content / Products are not found! No hassle, no coding, no amazon aws keys!
Layout Setup:
Customize Amazon Searched Products in just a few clicks! Each product comes with an Image, Title, Category, Price and Ratings.
Depending on Amazon Affiliate Website, you might get extra fields, like if a product is Eligible for Prime.
All these are very easy to Customize, starting with Font Families, Sizes, Colors, and also you can Setup how Many Products to Display per Column, and how many Products to Display per Page and if you wish to Display a Custom Pagination or not.

The BUY Button is Customizable as well.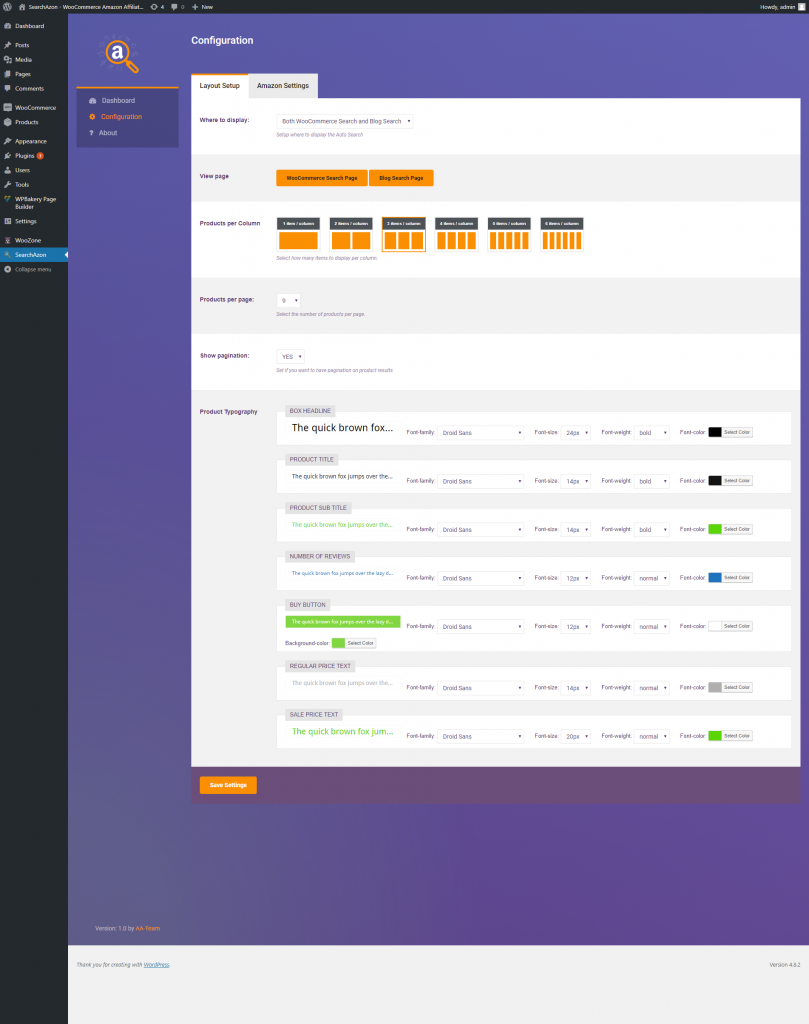 Amazon Settings:
Setup the default Search Category on each Amazon Affiliate Program.
As checkout features you have Direct Checkout or Add to cart! The Add to cart comes with the 90 days cookie of course!  
SearchAzon works with Amazon's Major Affiliate Programs!
United Kingdom, United States, Canada, Germany, France, Spain, Italy, India and Japan
It also comes with Geo-Targeting! This Feature automatically detects your client's location (country) and only loads Amazon Products from the closest Amazon Website. Ex: You have a Client from Canada that Searches for "Samsung" on your Website. When he clicks on any Amazon Product, he will be redirected to Amazon.ca.