Mass Optimization

This is a premium feature that will allow you to mass optimize your wordpress website in just a few clicks! It's the most unique feature and you will not find it anywhere else on the market.
How does this work? Well this module allows you to optimize all your posts/pages/custom taxonomies at once! Using this module you can auto detect the Focus Keyword for all posts/pages/custom taxonomies in just the click of a button!
And not only that! You can mass optimize the Meta Titles, Meta Descriptions and Meta Keywords for all posts/pages/custom taxonomies. What can be easier than that? Optimize your WordPress Website in seconds!
A sample list of stop keywords for English:
a, about, above, after, again, against, all, am, an, and, any, are, aren't, as, at, be, because, been, before, being, below, between, both, but, by, can't, cannot, could, couldn't, did, didn't, do, does, doesn't, doing, don't, down, during, each, few, for, from, further, had, hadn't, has, hasn't, have, haven't, having, he, he'd, he'll, he's, her, here, here's, hers, herself, him, himself, his, how, how's, i, i'd, i'll, i'm, i've, if, in, into, is, isn't, it, it's, its, itself, let's, me, more, most, mustn't, my, myself, no, nor, not, of, off, on, once, only, or, other, ought, our, ours, ourselves, out, over, own, same, shan't, she, she'd, she'll, she's, should, shouldn't, so, some, such, than, that, that's, the, their, theirs, them, themselves, then, there, there's, these, they, they'd, they'll, they're, they've, this, those, through, to, too, under, until, up, very, was, wasn't, we, we'd, we'll, we're, we've, were, weren't, what, what's, when, when's, where, where's, which, while, who, who's, whom, why, why's, with, won't, would, wouldn't, you, you'd, you'll, you're, you've, your, yours, yourself, yourselves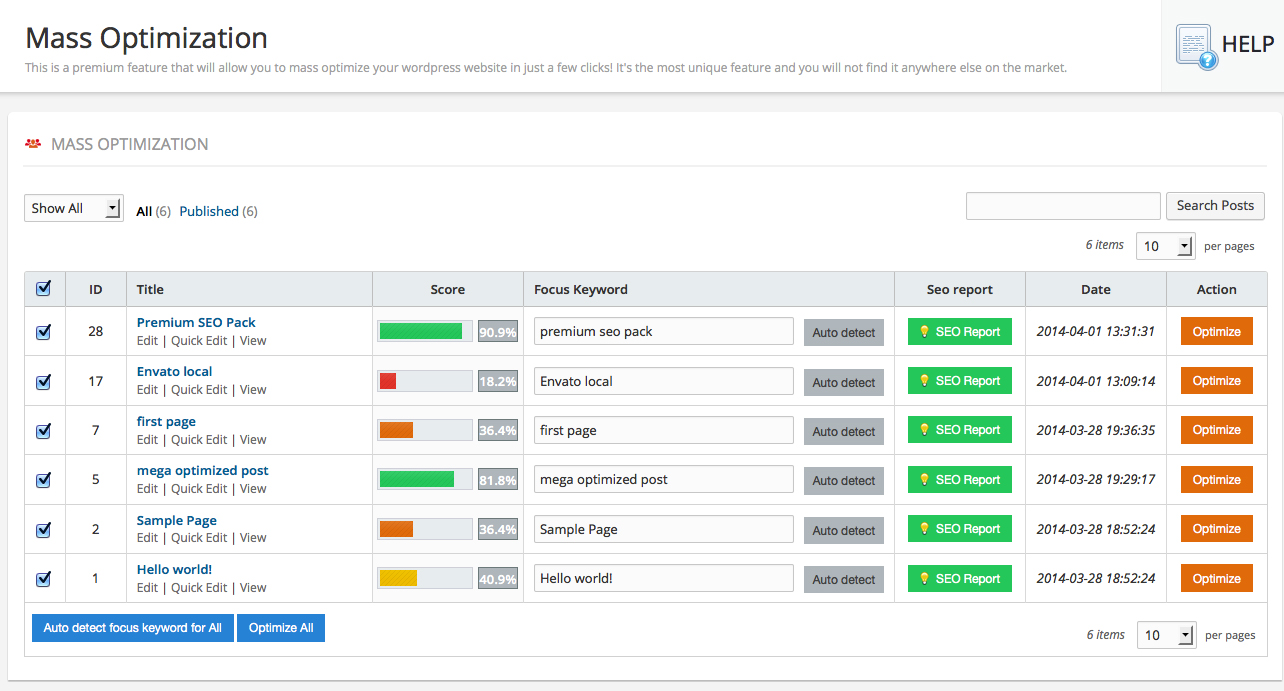 Here you have the following features:
Filter by posts/pages/custom taxonomies
Search posts/pages/custom taxonomies
Filter by how many items to display per page
Auto detect focus keyword for all posts/pages/custom taxonomies
Auto Optimize all posts/pages/custom taxonomies
Auto detect focus keyword for each posts/pages/custom taxonomies
Auto Optimize each posts/pages/custom taxonomies
SEO Report for each posts/pages/custom taxonomies
Quick edit for each posts/pages/custom taxonomies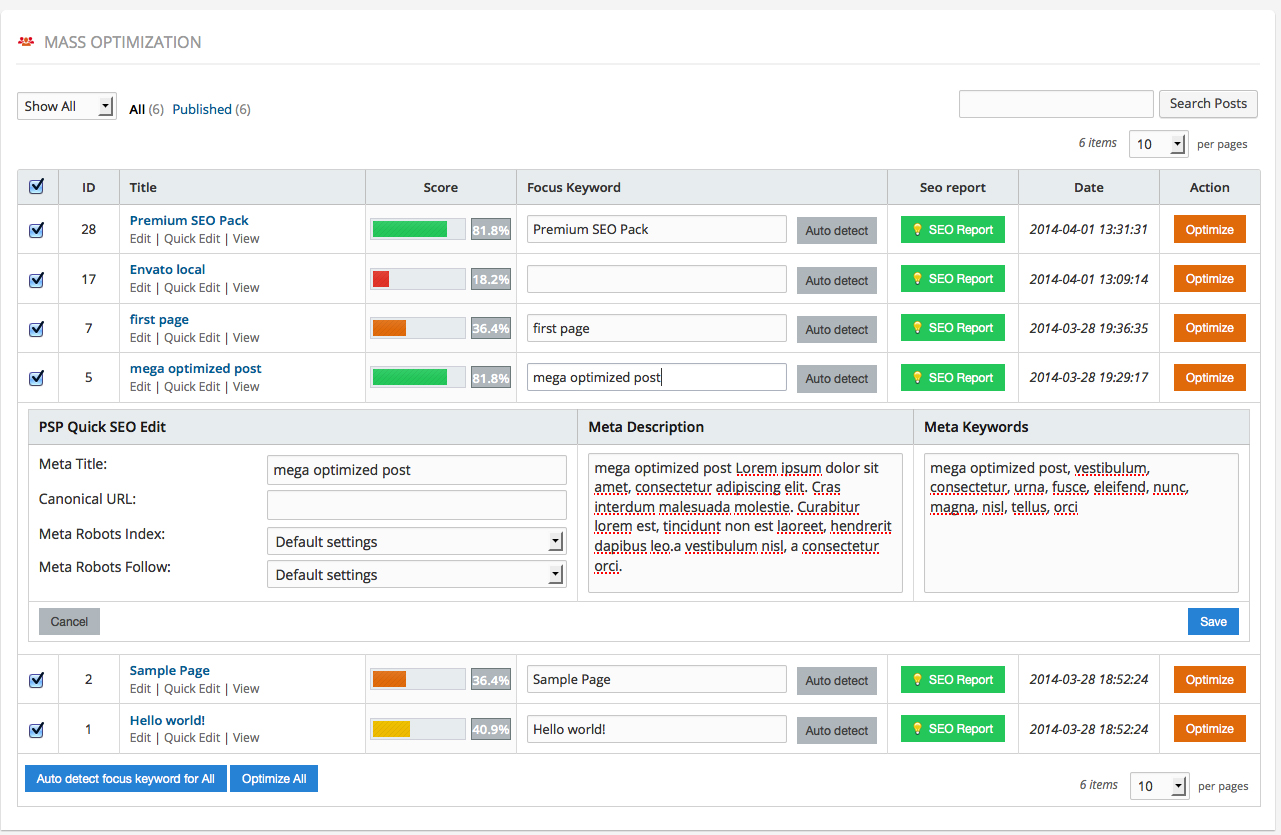 There's also ON Page Optimization, On Category Optimization and on any custom taxonomy.
Here you can set your Focus Keyword, Check the SEO Score, The Keyword Density, The Meta with – Rich Snippet Preview, SEO Title, Meta Description & Meta Keywords.
You can also see a Page Status where you can check all the main elements, if they are in the right parameters.
Also, you can setup Social Settings, for Facebook, to use Facebook Meta, Title , Description and Image.
For advanced users we have some Advanced SEO, that includes the Meta Robots Index, Meta Robots Follow, Include in Sitemap & Canonical URL.